Purpose Built Depot
In 2010 Schwarz Excavations purchased a 20,000 square metre parcel of land within in Gracemere Industrial Estate, positioned on the Capricorn Highway.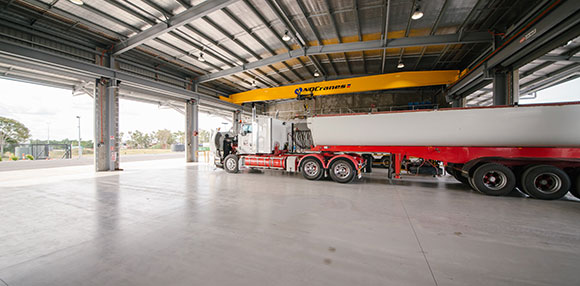 Schwarz Excavations performed the entire foundation site preparation where they initially cut and screened 5000 tonnes of decomposed granite, 2000 tonne was then re-used on site to level the block and provide the pad for the workshop structure. The remaining decomposed granite was then used as capping at the Rockhampton Regional Council's landfill.
The Depots Landscaping consist of local Barlow Blocks from Yeppoon, the hedging and turfed lawns complement the fully asphalted area around the workshop.
The Schwarz family pride themselves on presentation, practicality, functionality and most importantly productivity, which is highly evident in this amazing facility.
Purpose Built Workshop
Fully asphalted area around the workshop
Workshop area of 30 metres in length by 25 metres wide
5 drive-through service bays
15 metre long truck service pit
Automatic oil gantries
Remote controlled 10 tonne overhead crane
Drive through wash bay
Light Vehicle hoist
Stainless steel airlines
Dedicated mezzanine floor for parts storage
Automated, gated security around entire depot
Under floor plumbing to take waste oils to storage
Water tanks and filtering of run off